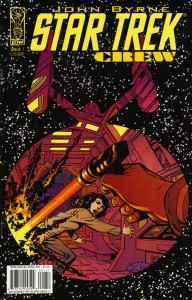 It just so happened that I read the first two issues of this series in backwards order.  But luckily it's episodic enough that it isn't a problem.  For anyone thinking of jumping into this series late, have no fear.  It should be easy to pick up anywhere.
This issue gives you a peek at the Enterprise before it was officially put into service.  It's prior to even Captain Pike, for you Trek fans who are in the know enough to wonder.
And if you're a big enough Trek nerd you'll catch that the call number is not what you'd expect.  Another ship of the same class makes an appearance with the number NCC-1700, but this fresh Enterprise is labeled NX-0002.  I don't know if this is meant to be a temporary designation, or if this is some interim Enterprise.  I can't believe that John Byrne would make a mistake in that way.  But it looks exactly like the original on the original show.  It's nice to return to those familiar sets.
The other nice element that Byrne has brought back here is the feeling of unexpected death that space exploration presents.  In the original series it was easy for people to die and death came abruptly.  This book has brought back that uneasiness that has been lacking for much of the recent Star Trek lore.
5 Responses to "Star Trek Crew – 01"