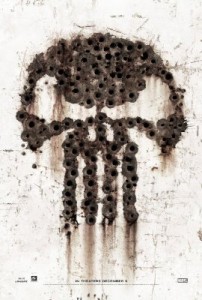 I'm probably the only person who will say that "The Punisher: War Zone reminded me of Coleson Whitehead's The Intuitionist."
But it did.
The reason is that both of them made me think that if I had been 12 years old when I discovered them I would have enjoyed them much more.
Punisher: War Zone deserves some credit for being faithful to the comics.  It manages to do so on the surface at least.  It has plenty of gore, and the characters' stories aren't terribly bastardized.  But maybe it's most faithful to the mediocre issues.  There was something of the charm and subtelty of the better comics that was missing.
If I were 12 I would have been entertained by all the makeup effects to show horrific deaths.  None of them have the impact of more subtle screen deaths, or even nearly as splashy ones in Robocop.  That's because each one is shown and then forgotten about.  There isn't any real anticipation or consequence.
That seems funny to say since the main internal plot line deals with Frank Castle (The Punisher) reeling from the guilt of killing an undercover agent during a fight with criminals.  So the film is supposed to be about consequences.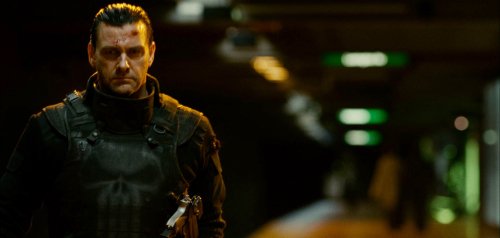 Ray Stevenson does a good job as the title character.  In the flashbacks he is a completely different person and feels strong yet so naiive before his family is murdered.  And once he is The Punisher he feels like the part.  It doesn't hurt that he looks the part too.
He has a nice sadness to him that enriches his character.  He isn't trying to hard, and is believable in his sedate dedication to what he may already know is a lost cause.
I love that The Punisher didn't speak a single line until the end of act 1.  I was almost hoping that he wouldn't speak for the whole film.  But I know that's too much to ask.
The villains were the weakest part of the film.  Dominic West and John Hutchison deliver the most hammed up stereotyped portrayals of New York City Italian mobsters that it's just embarassing.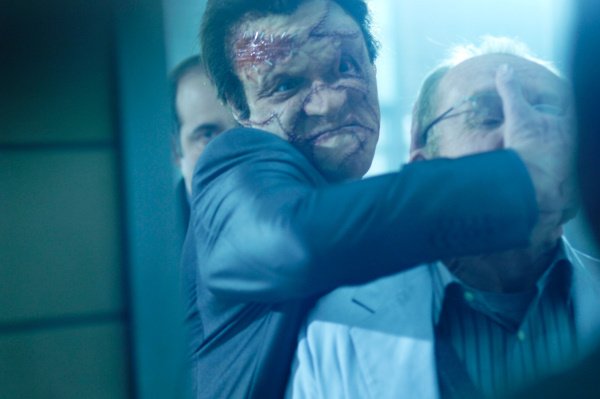 Dominic West's makeup as Jigsaw (Yes, this character was in the comics decades before the Saw films came out.) looks great.  The suggestion that some of the skin grafts used to put his face together aren't even from human flesh was a nice touch.  But his forced accent and goofy marionette impersonation of a coked up Al Paccino as he struts around town are had to look at.
I wonder if having a rubber mask on his face made him think he had to push everything further to make it show.  It was a very good mask and it showed all the nuances he did in his acting.  Unfortunately that meant that everything he did was seen, and that was a bit too much.
The town itself is another issue.  This is yet another film set in that part of New York city that's north of the Canadian border.  And it looks that way.  For foreign viewers it's probably acceptable.  And again my 12 year old self would probably have been fooled by it.
I'm glad I watched this as a way to keep up with comic book movies and adaptations of properties I already know.  And I learned from it.  If only this movie had come out in the 80s when it would have compared more favorably with what was going on at the time…  But maybe The Punisher is really a character that came into his own in the 80s and is a bit past ripe at this point.  I don't want to believe that.  I still think that the right team could make a better movie.  But then, this character was originally a simple foil to push the drama of other characters in the Marvel Universe.
15 Responses to "The Punisher: War Zone"